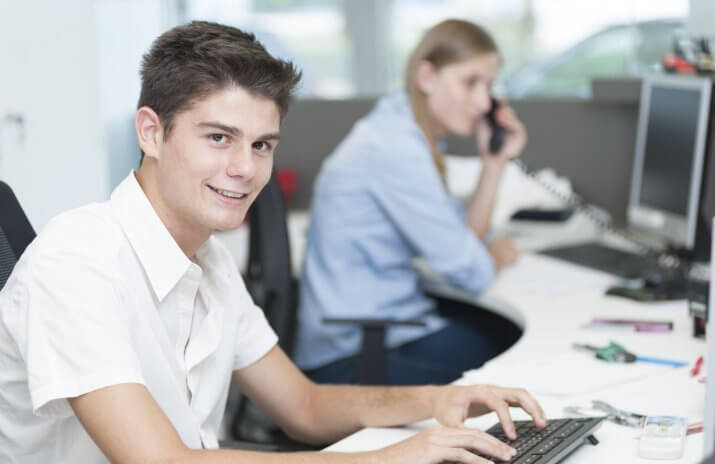 5 Great – and 5 Not-So-Great – On-Campus Jobs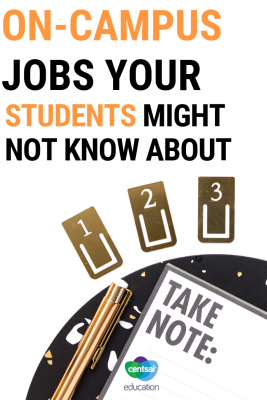 It's official: higher education in the U.S. is ridiculously expensive. As thousands think about the next school year, many will be looking for ways to bring down the high cost of a degree by earning while learning. If you are one of those students – like I was once – there are several on-campus jobs that you can consider that will optimize your campus earnings and make your situation a little less stressful.
Five Great On-Campus Jobs
1. Food Services
I worked various on-campus jobs within the food services department my entire four years on campus. As a result, I was always able to eat.
Yes, the job was a little stinky, and I stood on my feet a lot, but I never worried about being hungry.

Click To Tweet
I learned how to make pizza and barbecue chicken wings when I worked the pizza detail. For a couple of semesters, I worked at the coffee shop and learned how to make great coffee and pastries.
My coffee-making skills came in handy, as I couldn't land a job after graduation and ended up working at Starbucks for a year. I got very comfortable asking, "Would you like a pastry with that?"
2. Residential Advisor
Typically, residential advisors are in charge of planning and creating a comprehensive dorm life experience for students who opt to live on campus. They create programming that can range from safety talks to fun activities to sporting events. One of the coolest things about being an RA? The college covers your housing – and sometimes even food expenses – because of the position.
According to the College Board, the average cost for room and board for a student at a public university is $10,440. That's a huge financial burden off the shoulders of a student who becomes a RA.
Usually you'll need to have attended the university for a year or so to get the position, and some universities prefer to have slightly older students as RAs.
3. Student Assistant
Without the support of student assistants, I wouldn't have been able to do my recent job as a Student Services Coordinator. The key for aspiring student assistants is figuring out which departments you should work for. My student assistants made a big difference in our English as a second language classes, as well as helping me throw parties and run camping trips, river rafting events, and ski outings. Finding a department that does "cool" things that you could participate in and get paid to attend is the ultimate on-campus job.
My students were typically paid a minimum of $10 an hour, and they got to attend events for free.

Click To Tweet
4. Office of Financial Aid
Knowledge is power. Working in the financial aid department will help educate you on the ins and outs of how schools dole out financial aid. There are a number of things that affect your financial aid package, so it can be helpful to work with the people who work closest with student financial award packages.
5. Special Events Services
Organizing events featuring well-known guest speakers, politicians, or bands may be stressful, but it's also really cool. At my previous university, President and Mrs. Obama, the Dalai Lama, and others came through our gates. And if you work with your campus's events services, you're guaranteed a seat to the event.
Five Not-So-Great On-Campus Jobs
In general, I think most on-campus jobs are pretty great. Indeed, they all help you to pay your bills, meet cool people, and expand your resume. But there are a few jobs that just might not sit well with some people:
1. Animal Technician.
Someone has to clean the animal cages for the different animals that are on campus for scientific study. Ewww.
2. Dining Services.
Yes, this job will stretch your dollar, but let's be honest: working in the dining room is sweaty work. You will eat for free, but you will sweat a lot for each dollar.
3. Late-Night Driving Services.
Many campuses offer after-hours transportation services. In fact, I've used this service as a student and was very grateful for it.
Unfortunately, if you're the driver, you're going to be dealing with a lot of annoying drunk people.

Click To Tweet
But there's one good thing about this job: if you want to drive the buses on campus, you can get a commercial vehicle certificate. The department may even pay for your certification.
4. Recycling Services.
I love the earth and I make sure to recycle, but here, you will essentially be digging through garbage most of your shift.
5. Student Leadership Positions.
The bigger the campus, the harder it is to get people's attention. But when students are unhappy with how things are going – say, for example, there's been a student fee hike – you will know.
Work is work, though, and sometimes you just need to work the job that you get. What you get out of each job in terms of perks, pay, and joy may vary; but all work experience that you can put down in a bio is good. It shows who you are – a hard worker!