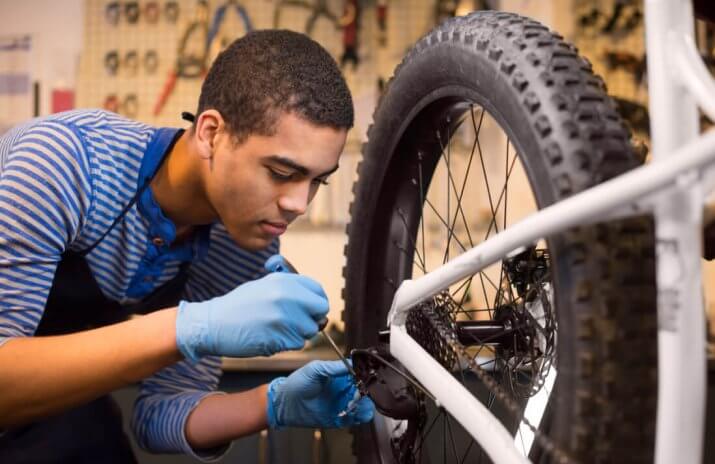 9 Great Spring Side Hustles to Make Extra Moola
CEE Standard: Earning Income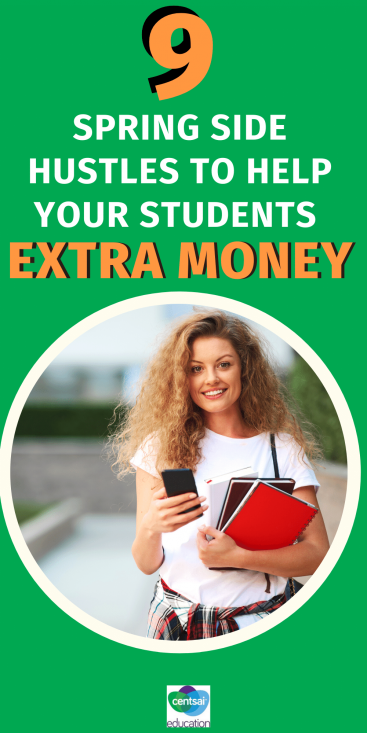 Spring is a great time for your students to step up their side-hustle game. Earning extra money means that they can save for college, a car, a fun trip with friends, have a little extra spending money in their pocket, or all of the above! Help your students brainstorm different ways they can make extra money this spring.
With the weather finally getting warmer, we know you're probably dying to get outdoors, spend more time with your friends, and go on some awesome spring adventures. But what if your cash flow is low? Or you're (wisely) saving up for college expenses? I've got two words for you: side hustles.
Side hustles are small jobs — usually temporary — that you do on top of your regular routine. For example, mowing lawns around your neighborhood totally counts as a great side hustle. Babysitting for your parents' friends is another great example of how you can make quick cash without interfering with your regular activities. Spring is a hot time to pick up some hours or start a little business without much commitment.
To help you get started, I picked the top nine spring side hustles for a teen with an already busy schedule.
1. Work a Sporting Event
Baseball's back, soccer's started, hockey's ramping up, and basketball's getting good! Spring is the perfect opportunity to take a seasonal job working sporting events for minor- or major-league teams. Jobs like food service, security, and ticket sales are usually in the evening or on weekends, and require only a few hours' worth of commitment. With pay around $8 to 15 an hour — depending on what you do — side hustles at sporting events hit it out of the park in potential earnings.
2. Staff a Booth
Spring is festival time, especially if you're living or attending college in a larger city. Vendors, restaurants, and event organizers are on the lookout for extra help.
3. Be the Dancing Sign Holder
You all know that guy or girl standing on the street corner dressed in a costume and spinning a sign. You've probably had a good laugh at him, but you won't be laughing when you realize he's most likely making around $10 an hour. Tax season is the perfect time to get in on this.
4. Start a Date-Night Babysitting Service
Years ago, I made the big bucks by putting myself out there as a last-minute, date-night babysitter. At $15 an hour — plus $4 extra if there are three or more kids — I was always answering calls from past babysitting clients and their friends. I even had profiles up on big-name childcare sites like Sittercity and Care.com. This is a great way to try your hand at being an entrepreneur!
5. Tend to the Garden
I've already mentioned lawn care as an ideal side hustle, but gardening is another good money-maker. Landscape businesses hire teens to work seasonally in the spring for laying mulch, digging weeds, and planting bushes and trees. You can also find jobs with florists or outdoor-supply shops that are looking for extra hands during their busy season.
6. Teach a Lesson or Two
With the end of the school year coming faster than you think, freaked-out students and their parents are looking for high-quality tutors. If you've had straight A's all year, hang some fliers around the library or campus, or even approach students in need directly. Rates usually go from around $20 to $80 an hour, depending on your specialty and qualifications.
7. Get in Touch With Nature
Did you know that you can make money collecting pond water or picking up duck poop? Both are actual jobs with loaded paychecks if you can find them. Biologists, researchers, and environmental groups hire students to help with their research and with monitoring wildlife. Spring is an especially good time of year to get your hands dirty for cash.
8. Give Great Hospitality
April and May set off the wedding season, when caterers and hotels will be on the lookout for reliable staff. Working a few nights a week for five to 10 hours could bring in hundreds of dollars.
9. Sell Some Treats
Selling lemonade isn't just for kids. Hawking a product around your neighborhood — like ice cream, soda, or baked goods, to name a few options — can be just as exciting now as when you were 5 or 6. Ask a local business for space in its parking lot or fill out a vendor application for festivals and fairs. Check the food licensing for your town and then start selling. A cheap product like snow cones can bring in a significant amount of money!
Why would a student want a part-time job or a side hustle?

What is meant by the term side hustle?

Other than the money you earn, what are the advantages of having a side hustle?

Do you have a side hustle? If not, do you know others who do? What do they do?

In your area, what side-hustle opportunities are available to you?