How To Save Money On Amusement Park Tickets
Area of Study: CEE-  Saving and Buying Goods; Jumpstart- Spending and Saving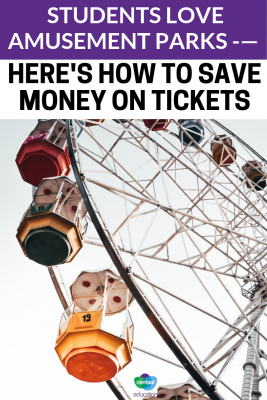 Who doesn't love an amusement park?  But the admissions price tag can be as bitter as a box of Sour Patches.
Here, Eva Baker, of teensgotcents.com gives some tips on h0w to save money on theme park admissions.  In addition to the recommendations she makes—it's always a good idea to go online to see if the park is offering a special or an online discount, or even check out the local circulars.  Sounds old fashion, but it works!
Also, students are often eligible to save by showing their student ID card. Don't forget group savings if traveling with a posse of friends!  Remember that the food can be crazy expensive.  Eva has some smart tips on how to save.
Bottom line: Be a smart consumer and know that the actual price can often be reduced.  This applies to more than just amusement park, btw. 🙂
Key Words
amusement park
planned
experience
expense
savings
cost
overspend
pass
pricing
share
Questions
1. Have you ever been to an amusement park such as Universal or Disney?
2. Are there any other parks near you?
3. Using the internet, research the prices of tickets at your local amusement park. Do the entry prices vary, and if so, why?
4. Based on your specific circumstances, would it be better to buy a day pass or an annual pass? Explain your reasoning.
5. What things would you usually expect to buy in an amusement park?
6. What strategies did Eva mention in the video that you could use to save money?
7. Why does an amusement park charge the prices it does?
8. List as many different tourist attractions as you can think of that are in the state where you live. You may want to use the internet to help you find out more about them.
9. Use at least 10 of the key words listed below the article to write a paragraph starting with "Penny was planning a trip to Venice."