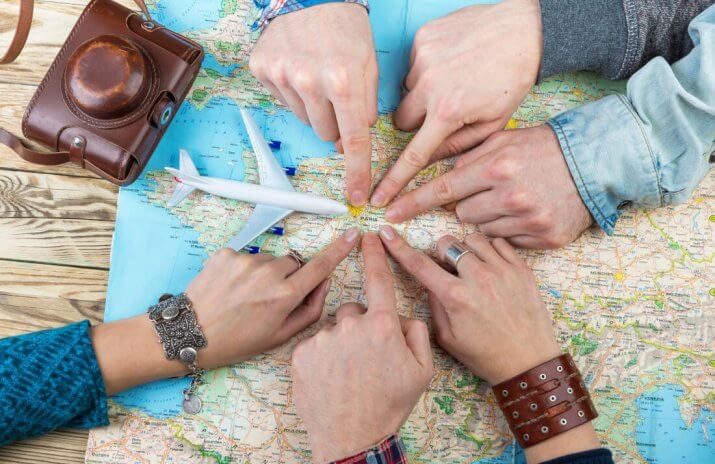 7 Super Cheap Ways to See the World
CEE Standard: Saving
Many students dream of being able to travel the world, but probably think they will have to wait years before they have the money. While they may not be able to go right away, there are lots of ways your students can save on airfare to make their dream become a reality. These tips on finding a cheap flight can be used when traveling anywhere!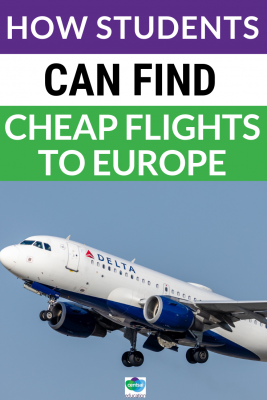 I once got a flight from my hometown of London to Baltimore for just $300. Sometimes it can cost that much to just travel coast-to-coast United States — so if you think traveling across the Atlantic is expensive, think again! That trip to Europe or some other far-flung destination may not be as far off as you think.
So without further ado, if you want to make a trip to our great continent without a high price tag, here are a few tips:
1. Know Which Days Are Cheapest to Fly.
Flight prices can really depend on which day you choose to fly. Flight prices will be significantly more expensive (and fuller) on Fridays, Saturdays, and Sundays for obvious reasons. Midweek flights are your best bet for cheap deals.
The best day to fly is Tuesday, based on my experience. Crowds are low, prices are cheaper, and you have a better chance of getting a spare seat next to you for more room! Wednesday is also a great day to fly, if Tuesday doesn't work for you.
2. Use the Internet to Find Cheap Flights.
If you want some cheap direct flights to Europe with major airlines, go to Skyscanner for price comparison and the best deals.
The nifty thing about this site is that you can search flights to "everywhere" if you're flexible about where you want to travel. You can also be flexible on dates by searching for the cheapest deals in a specific month — or even throughout the whole year. Once you've selected all your options, you'll get a list of (hopefully cheap) results, and you'll be well on your way to Europe!
After doing a quick search from "United States" to "Everywhere" at any time throughout the year, I found options for $231 roundtrip flights to Sweden, and even a $247 roundtrip to London from Boston in February.
3. Fly With Budget Airlines.
There are quite a few budget airlines if you just want the lowest flying deals. Norwegian Airlines is probably the best, offering direct flights to the United Kingdom and Scandinavia at cheap prices. Norwegian Air serves all the main international airports in the United States, including New York, Boston, Orlando, Los Angeles, and Las Vegas.
Another option would be WOW air, an Icelandic airline that offers flights across the pond with a layover in Reykjavik, Iceland. All flights have a stopover there before heading on to mainland Europe. So if you don't fancy a seven-plus-hour flight, you can break it up with WOW air. The only downside with this airline is that there is no in-flight entertainment system — so bring a magazine or two.
4. Fly Into One of the Cheaper Cities.
There are some airports that are cheaper to fly into than others. Although prices fluctuate all year-round, there are a few that stay consistently lower than the rest. London is probably the best option. (I'm not biased — I swear!) It's the gateway to Europe from the States — mainly because it's the closest major city.
There are so many airlines that fly into London's seven international airports (the biggest being Heathrow) that prices are competitive to undercut their rivals.
Due to the Norwegian airlines, flights to Scandinavia are also quite cheap. You can fly into cities like Copenhagen, Stockholm, and Oslo for incredibly low prices.
5. Visit at Cheaper Times of the Year.
Naturally, it will be a lot less expensive to travel to Europe during the cold winter months or in the fall. Come spring or summer, it gets a bit more expensive. Spring break would be a better time for crowd levels, as most European schools have their vacations at different times in the year. Price may be compromised, though.
6. Look for Cheap Internal Flights in Europe
If you're making the trip over, you might as well go to more than one country. And there's a cheap way for you to do it! There's an airline in Europe called Ryanair that offers blockbuster flight prices. A Ryanair flight that I took from Berlin to London a while ago cost me only $7 (yes, seven).
7. Clear Your Cookies
Just one more tip from me: if you've been looking at flights a lot — to anywhere, in fact — it's a great idea to clear your cookies regularly. Some websites can see that you are a repeat visitor and sneakily raise prices. Another option is to open an incognito window to get the best possible price quotes.
Now that you know how to grab cheap flights, I expect you to visit me if you ever head to London!
Where do you want to travel to?

What day has the cheapest flight for where you want to go?

Is there a city you can fly into that would be cheaper than the biggest tourist city?

What is the "off season" where you want to go?

What do you believe you can learn by traveling extensively?