Top 5 Tips to Get Sweet Shopping Deals
If there is one thing Eva Baker loves, it is S-H-O-P-P-I-N-G.
As founder of the first-ever teen entrepreneur conference, she has her own business and knows how to manage money. She also rocks at finding  good deals.
We're not sure if she first learned how to be a smart shopper from her two cats….
or if she sensed Hilary Duff's frustration…
but Eva is here to tell you how to find great clothes at bargain prices.
Key words
outfit
price
save
clearance
racks
coupons
need
want
member
lists
rewards packages
mark downs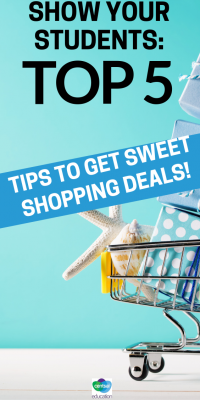 Questions
1. What's the name of your favorite store?
2. Why is it your favorite store?
3. Does your favorite store have any competition? Can you name at least 3 stores that are
competing for your sale?
4. When was the last time you bought some clothing?
5. What 3 things do you consider when buying an item of clothing?
6. Why should you always visit the clearance rack first when looking to buy something?
7. What advice does Eva give about saving money in stores?
8. Use at least 5 of the key words listed below the article to write a paragraph starting with
"Charlotte was in need of some clothes for her planned vacation….."