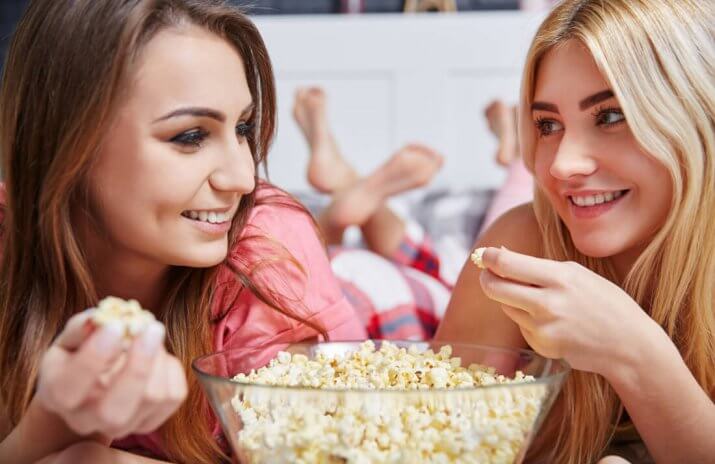 The Only Dorm-Room Grocery List You'll Ever Need
CEE Standard: Saving
College meal plans can be very expensive, and your students may be looking for ways to save money when they go off to school. The only other options are eating out, which can be even pricier, or shopping for food and cooking in their dorm. Walk your teens through this dorm-room grocery list and help them learn how to save money when it comes to food.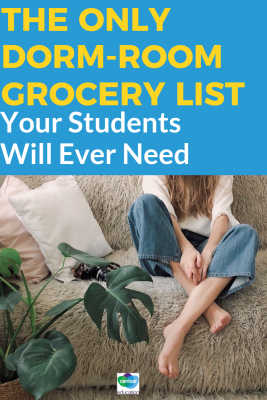 Can we please stop talking about how dorm food means eating instant ramen on a daily basis?
It never occurred to me that so many of my fellow students had no idea what to do when they walked into a supermarket. Ok, so maybe it was because I grew up as a total foodie. In fact, going to supermarkets was and still is a passionate hobby of mine (who says that?).
I'm certainly not saying that it's their fault. Maybe their parents always took care of the food and these students never had to fend for themselves. If you're in this position, don't sweat it.
Of course, you'll have to check with your school to know exactly what type of cooking is permitted in dorm rooms. Most universities allow microwaves, but some don't. Some colleges allow hot pots and small refrigerators, but others don't. Some schools even have communal kitchens with full-size appliances for students to use.
Regardless, take advantage of what your school does allow and plan to fix your own meals whenever possible. It has the potential for big savings over the typical meal plan, can save a lot of time, allows you to prepare food that you like, and is probably much healthier than fast food.
Take a look at the list below, and you'll see just how many different types of meals you can make. It doesn't have to be complicated or difficult either.
Dorm-Room Grocery List
Protein
Protein is super important for a good diet, as it helps with bone and muscle growth. It'll keep your energy levels up, which helps when you need to stay up late for last-minute study sessions.
An easy way to get protein into your diet is eating meat, but that can get expensive, so check out the supermarket sales or stick to cheaper meats like chicken and pork. Every once in a while, you can opt for seafood or beef.
If you're not a meat eater, eggs are always a great option. Other types of protein include soy products like tofu and tempeh, quinoa, dairy products, chia seeds, nuts, and beans.
Vegetables
No, I'm not your mom, but I am telling you that you need to eat your veggies. They're essential to a healthy and well-balanced diet. Not only are they low in calories, but they provide wonderful nutrients and vitamins to your body to keep you strong. You'll also save money by eating more vegetables, as they tend to be cheaper than meat and fill you up faster because of the high fiber content.
Another frugal tip: Buy seasonal veggies or frozen ones. Frozen and in-season veggies tend to be cheaper, saving you more money. Don't know what's in season where you are? Check out the United States Department of Agriculture's Seasonal Produce Guide. Another good indication is seeing what fresh produce is on sale at the local grocery store.
Need some suggestions? Here are some veggies with lots of flavor that you'll be able to find pretty much anywhere:
Kale or spinach

Carrots

Broccoli (frozen tends to be cheaper)

Frozen vegetable mixes (the stir-fry mix is particularly popular)

Bell peppers (green ones tend to be cheaper)

Tomatoes (canned can be great, too!)

Cucumbers
Fruit
A nice alternative to junk food, and it can be a bit cheaper per serving, as well. You can even incorporate fruit into meals by using it in a smoothie or a salad. Some pretty inexpensive options include grapes, apples, oranges, pineapples, and pears.
Purchasing canned fruit is another great option, but make sure it's packed in its own juice — not submerged in syrup.
Whole Grains
Fiber is necessary for a good diet. Plus, it's cheap, fills you up, and can help you extend the life of your meals by adding it onto any leftovers you may have.
Fiber options include:
Whole wheat bread

Rice (brown, wild, or long-grain)

Cereal

Couscous

Oatmeal
Seasonings
Spices and herbs are relatively inexpensive and can add bring any dish to life. Think about your mom's homemade spaghetti sauce or casseroles — I bet she sprinkled herbs and spices here and there.
If you're a little hesitant, at least buy some salt and pepper for your pantry — and Italian seasoning goes well with pretty much everything.
If you're willing to branch out a little, here are some suggestions for newbie cooks:
Rosemary

Oregano

Basil

Cilantro

Garlic powder

Onion powder

Hot pepper flakes

Paprika

Curry powder

Salad dressing packets

Vinegar and/or lemon juice
And, you should definitely get some oil for your pantry. Olive or vegetable oil is easy to find in most supermarkets. If you're feeling adventurous, try sesame oil.
Snacks
Sometimes you're not into a full meal, and that's totally okay. Or you happen to be running from class to class and don't have time for lunch. Or maybe you forgot to buy groceries for the week.
Here are some affordable snacks (not all are healthy, though):
Chips

Peanuts

Protein bars

Trail mix

Chocolate

Cookies

Crackers

Frozen meals (spring rolls, bagel bites, etc.)
Sample Menus
Here's a sample menu that you could pull from the grocery suggestions above. Just for giggles, there's a healthy option and a not-so-healthy one. Sorry — I can't bring myself to include ramen.
Healthy Version
Oatmeal with milk and frozen berries or scrambled eggs with cheese
Lunch
Whole wheat quesadillas (sandwich 2 tortillas with shredded cheese, veggies, and deli meat and heat it up)
Dinner
Grilled chicken salad with spinach or kale and homemade dressing (vinegar and oil or lemon juice is pretty delicious!)
Unhealthy Version
Breakfast
Froot Loops (or other sugary cereal) with milk and coffee
Lunch
A chocolate bar and instant mac and cheese
Dinner
Frozen bagel bites with bacon
Apps and Sites to Try
Don't stress about putting meals together. Thankfully, there are apps that can help you out with recipes and cooking tips.
There are times when it looks like I literally have a bunch of ingredients but I can't make a decent meal out of them. This site has me input all those seemingly random items in my fridge, and then shows me recipes I can make with what I've got. It really has saved me from more trips to the grocery store.
Allrecipes is a great place to find and share recipes to give you some inspiration in your dorm-room kitchen. You can search for recipes with a keyword or even with ingredients you have on hand. When you add a recipe, it will even create a shopping list for you!
Think of this app as a nutritionist in your pocket. I started using this on my last few grocery trips, and it's helped me look at nutritional information to see if there is any ingredient I needed to avoid (super helpful if you have dietary restrictions like I do). The app also provides healthier alternatives.
I love planning menus for the week. If you have a lot to do, not having to think about what you're going to eat that day is super helpful. The feature I like the best is called "Use Up Leftovers." You enter what ingredients (or leftovers) you have, and it'll suggest a new recipe for you to try. Again, I'm a foodie, so variety in my meals is fine with me.
Your Turn
Worrying about what you should eat during college shouldn't totally stress you out. Grab the grocery list above, try some of these apps, and you'll impress your classmates with your cooking skills in no time. Just make me a promise that you won't add instant ramen to your diet, okay?
What are the foods and snacks you like to have on a regular basis?

Can you find coupons for the food you like most to maximize your savings?

Does your local grocery store have an app that can help you save?

Do you like to plan your menu in advance? Do you think that could help you save money when you shop for food?

What are other ways you can save money at the grocery store?