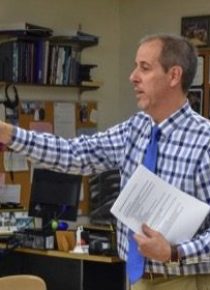 Julius Prezelski
Mount Saint Joseph High School, Baltimore
High school
Business law and personal finance
A veteran teacher of 25 years, Julius Prezelski has continued to keep curriculum in Mount Saint Joseph as up to date and relevant as possible. His long-term goal at the moment is to have personal finance as a required course for graduation. Even in the face of adversity, Prezelski remains stoic and optimistic.
"I have witnessed his leadership, tenacity, and positive attitude in helping our students. He often says 'Sure, it will be a headache to structure our scheduling to require personal finance, but don't we want to do what's best for the students?'"
Paul Kellermann, Computer Science Department Chairperson, Mount Saint Joseph High School
AND NOW... AN ARTICLE FROM OUR EDUCATOR OF THE MONTH!
No posts to display