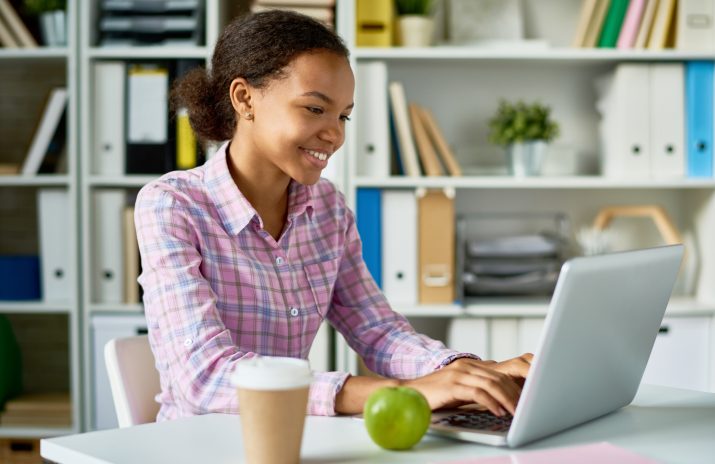 Online Banking 101: The Teen Edition
CEE Standard: Using Credit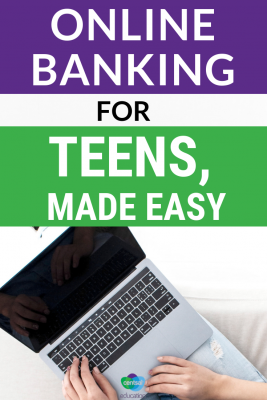 If your students have a bank account, they probably have access to the account online. Use this article to teach them about all of the great features online banking offers and how they can make the best use of an online account.
Congratulations on opening your first bank account! Now, you just need that shiny new debit card to arrive in the mail and you're all set. But you don't have to wait for your debit card to start taking advantage of all the perks that your bank has to offer. Thanks to online banking, you can access your account with the tap of a finger without having to visit a branch.
What Is Online Banking?
Online banking is the act of conducting bank transactions online. When you log in, you'll be able to:
View balances, transaction history, routing numbers, and account numbers for all your accounts

Download account statements

Transfer funds between your accounts in real time

Send secure messages to bankers if you need help with your account (some banks also offer a live-chat function or allow you to make an appointment to see a banker at a physical branch)

Update account settings, including account alerts and identifying information
How Does Online Banking Work?
To access your account electronically, you'll need to enroll using your account information. You can do this using the bank's website or mobile app.
If you use the website, visit the homepage and look for the button or hyperlinked text that says something along the lines of "access your account online" or "log in." Click the link and instead of entering a username and password, select the button that says "register" or "enroll."
If you prefer to use your smartphone to access your account, download your financial institution's app. Next, click on the "sign up," "enroll," or "register" text; select your account type; and enter the requested information. This information is used to validate your identity and can include a combination of your name, address, Social Security number, zip code, date of birth, and phone number.
Quick note: You can register on your computer and use the same credentials to manage your account via mobile app. (And with some banks or credit unions, you might have to visit the branch to initially sign up for online banking.)
Other Benefits of Online Banking
1. Mobile Deposits
If you haven't enrolled in direct deposit at your job and are still receiving paper checks, online banking takes the hassle out of having to wait in line at the bank or pay a check-cashing company to get your money. Instead, you can log into the mobile app; snap pictures of the front  and back of the check; and enter the requested info. Problem solved. This feature will work for virtually any check, including those you receive as gifts from family members.
2. Cross-Account Transfers
What if you need to transfer money to one of your other accounts to cover an expense? There's no need to write a check to yourself or to physically visit the bank, withdraw the funds, and deposit them into the other account.
With online banking, you can link external accounts and initiate cross-account transfers. You may want to do this when you initially set up your account, as the verification process may take a few days.
3. Sending Money to Other People
Do you owe money to a family member or friend or need to lend them some cash because they're in a financial bind? Several financial institutions have partnered with payment services like Zelle to help consumers quickly get money where it needs to go. A nominal fee may apply, but it beats a wire transfer, and the money will reach its destination in as little as one business day.
4. Opening a New Account
Are you considering a savings account to help reach financial goals like paying for prom or buying a car? You don't have to visit the branch to fill out the application. You can usually do it online. As long as you meet the eligibility requirements, your account will likely be ready for use the same day. If there's a minimum opening deposit, you can fund your account from the online dashboard, as well.
5. Applying for a Credit Card or Loan
Are you ready to apply for your first credit card or loan? You may be inclined to visit the branch and get the ball rolling in person with a banker. But you may also be able to upload the required documentation, complete the process online, and get approved without stepping foot in the branch. Even better, the application may be pre-populated with the information that the bank already has on file for you.
Remember: If you apply for a loan you will be expected to pay interest on it. All of that information, like what the interest percentage on the loan will be, should be presented to you upon applying for it. Interest is what it costs you to borrow someone else's money. When it comes to credit cards, interest rates might be higher.
6. Paying Bills Directly From Your Account
This is one of the most desirable features of online banking. No more heading to the post office to drop checks in the mail or scheduling payments on 20 different websites across the web. With online banking, you can make arrangements to pay all your monthly bills directly from the dashboard (though a nominal fee may apply for this service).
7. Viewing Your Credit Score
If you don't have a credit score yet, this feature won't be as beneficial to you. But once you enter the world of credit, you could save yourself a few bucks per month by viewing your credit score for free from the online dashboard. Your credit score is important because it lets organizations who lend money know if you are a credit risk or not.
8. Spending Trackers
Need help managing your money? Most banks have this covered, offering budgeting tools directly from the dashboard to help you track your spending and set financial goals.
The Bottom Line
Online banking is definitely something you want to consider to take the hassle out of managing your money. But make sure to protect your log-in information and frequently review account activity to minimize the chances that your account will be compromised.
What is a bank account?

Do you have an account at a bank or credit union?

What are the advantages to online banking with a bank or a credit union?

What is a debit card?

Using the resources available to you, list five different banks or credit unions in your hometown.