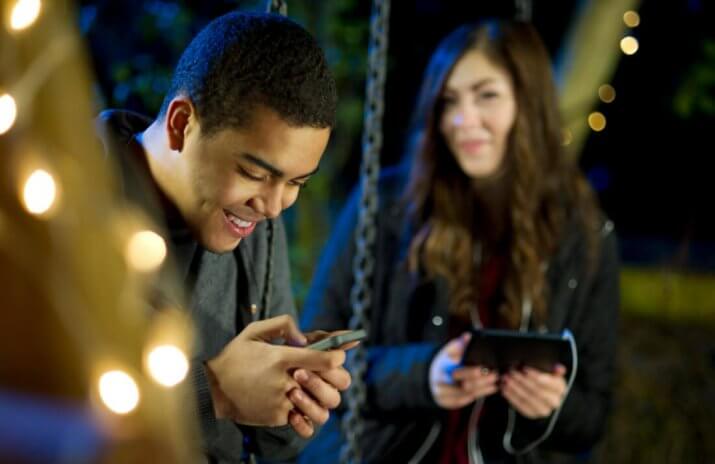 The Top 5 Investing Apps All Beginners Will Love
So you're interested in investing, but you aren't sure where to start. Why not start with an app that makes it easy? These five investing apps are great tools for beginners who just want to practice or get their toes wet:
1. Acorns
This app is a great choice for first-time investors.
The best thing about it? The customized investment portfolios based on the investment strategy of your choice – conservative, moderate, or aggressive. It's simple:
After you link your bank account, Acorns automatically rounds up your purchases and invests your "change" into the stock market. Interactive charts show how much your stocks have generated in dividends, and the app features a cool "Grow" tab, with helpful finance advice specifically geared towards investments.
2. Vestly
Unlike Acorns, Vestly does not use the money from your personal bank account. Instead, you invest in stocks with virtual currency and compete against other Vestly investors.
At the end of the month, the top investors win a cash prize – the real money equivalent of whatever they managed to generate that month.
It's a fun little game that incentivizes you to follow the market, learn the trade, and assume risks – all without actually having to put any of your real money down.
3. Stock Market Simulator
This app allows users to invest virtual money in an online simulation of the U.S. stock market. Accounts start at $10,000 and go up from there, with stock prices updating every 15 seconds, modeling the stock market in real time. This is super helpful and fun, since you can learn the patterns of the stock market by watching the prices of stocks fluctuate.
It's a great introductory tool for beginners and for those who lack the capital for large-scale investing, but would like to know more about it. However, you shouldn't use this app as a decision-making tool in real-life investing.
4. Motif Explorer
This app was the coolest of all the ones that I found.
I don't use it personally, but the idea behind it is terrific. Get this: Motif analyses trends and world events that could lead to good investment conditions. After analyzing these events, the app builds portfolios based on similar stocks. Current market investment trends like clean technology and renewable energy companies are great choices for an investment portfolio.
To start off, Motif requires $250 minimum, plus a commission of $9.95 for a portfolio containing 30 stocks. The app has features to track your portfolio's performance, review previous performance charts, and analyze trends to determine your next move. Even if you don't pay the fees, the app allows you to access new investing projects and track other stocks. It's not ideal for large investment portfolios, but it makes small-time investing fun and relevant.
5. Fidelity Investments
If you've been through all the beginner's investing apps and you're ready to bite into the meat of things, this app's a winner. It allows you to trade and track your accounts anywhere through the app, with customizable features that make investing fun. You can customize your homepage, use money management tools, view stock market charts, and learn about different trading and investing options. You can transfer funds into the account either by linking a bank account to the app or depositing a check directly. The icing on the cake? Bill pay and news covering mergers and acquisitions, technology, and markets.
Don't forget to do your research first! But once you've read up on investing, you can use these apps to practice or to get your toes wet before really diving in. Other easy-to-use investing apps for beginners include TradHero, Stash Invest, and Robinhood. Read more about these apps on CentSai.